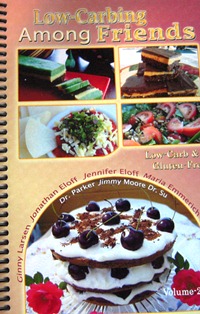 Low-Carbing Among Friends vol 2
Jennifer and Jonathan Eloff, Maria Emmerich, Ginny Larsen, Lisa Marshall, Jimmy Moore
recipes, low-carb, gluten-free, ketogenic
These are some of the best low-carb recipes out there. So many low-carb books use lots of exotic ingrediants but most of the recipes are simple and straightforward. While I may not agree with some of the sweeteners used (I'm a stevia gal), they are all gluten-free and low-carb (under 10g net).
I was confused at first by the lack of pictures but they quickly point out in the introduction that by putting the pictures online, they can keep the cost of the book reasonable. I purchased vol 1 in the normal binding and vol 2 in the coil binding which is only available through their website (not Amazon). It is completely worth the $2.99 upgrade to coil bind the book as the pages lie flat for easy use in the kitchen and I don't have to worry about breaking the binding.
My one nit-pick is that the recipes report net carbs instead of total carbs which since I strictly go by total carbs... the carb count on most recipes is deceiving.
Ketogenic Recipes
As a gift to any ketogenic readers out there (*waves*), here are the ketogenic recipes with a ketogenic ratio over 1.5. What I like about this is that if you pick all meals with a KR over say 2, you know at the end of the day what your KR will be without doing math! Also where possible, I've linked the recipe to the picture.